Birch is one of the woods available to the player in TerraFirmaCraft. Birch is a hardwood and, in real life, it is used in plywood and it has some medical usage. The birch tree is easily one of the most recognizable trees in the mod, since it uses one of the vanilla textures of Minecraft.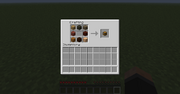 The wood of the tree can be made into planks via a metal saw.
These planks can then be used to create any item or block which requires wooden planks. When creating an item / block with planks, the recipe is not plank type specific (except for tool racks and doors). You can, for example, create chests, stairs, and signs out of different types of wood.
Characteristics:Edit
Easy to break
Medium burn length
Medium burn temperature
Medium growth speed
Ad blocker interference detected!
Wikia is a free-to-use site that makes money from advertising. We have a modified experience for viewers using ad blockers

Wikia is not accessible if you've made further modifications. Remove the custom ad blocker rule(s) and the page will load as expected.