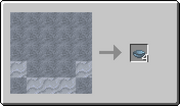 Bowls are used to make gold pans, or in preparing meals (salads). Bowls are no longer crafted from wood, instead they have to be molded in clay and then burned in a pit kiln before use.  
By default, the current recipe produces 2 bowls. After eating a salad the bowl has 50% chance of breaking. This can be altered to the old behavior in the config files, ie. 4 bowls per recipe and 100% breakage after eating salads.  
Ad blocker interference detected!
Wikia is a free-to-use site that makes money from advertising. We have a modified experience for viewers using ad blockers

Wikia is not accessible if you've made further modifications. Remove the custom ad blocker rule(s) and the page will load as expected.