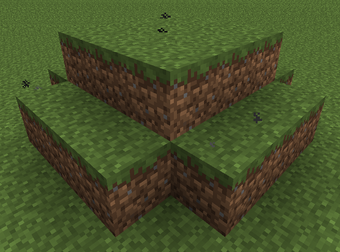 The charcoal pit is a construction that allows players to convert wood, in the form of
log piles
, into charcoal. Charcoal is mandatory for
bloomeries
 and
blast furnaces
, and may also be used in
forges
. There is currently no other way to create charcoal.
Charcoal pits can be made out of any non-flammable material, but soil is most often used for its ease of removal and prevalence. Once a charcoal pit has been started, it can take up to 18 in-game hours to complete (roughly one day and half a night).
The more logs that are placed in the log piles, the more charcoal will be created in the charcoal pit after the process is complete. A standard charcoal pit yields about 1.5 stacks of charcoal (96 pieces).
Instructions for building:
Edit
The charcoal pit is comprised of 3 elements: Torches, the log piles, and the surrounding material. Without all of the log piles, the charcoal pit is likely to catch itself on fire. Without a torch, the heating process will not begin. Without the surrounding material, the log piles will catch fire, which might spread to any wooden objects nearby.

Ad blocker interference detected!
Wikia is a free-to-use site that makes money from advertising. We have a modified experience for viewers using ad blockers

Wikia is not accessible if you've made further modifications. Remove the custom ad blocker rule(s) and the page will load as expected.