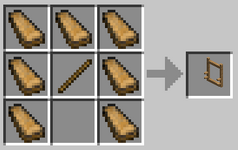 The loom is a device whereupon
cloth
can be made from
yarn
or string. String can be acquired from spiders, and yarn can is processed from
sheeps
wool
, using a
spindle
.
16 pieces of yarn is required until the loom is filled (or 24 strings from spiders). Each strand will add a visible portion of cloth on the loom until it is completely filled. When the loom is prepared, shift-right click with empty hands on the loom. This will weave the strands until a cloth is produced.
Crafting the loom requires 7 lumber arranged in an upside-down U, with a stick in the center. The loom must then be placed on the floor, and each strand is added by holding it in the hand and right-clicking the loom.
Ad blocker interference detected!
Wikia is a free-to-use site that makes money from advertising. We have a modified experience for viewers using ad blockers

Wikia is not accessible if you've made further modifications. Remove the custom ad blocker rule(s) and the page will load as expected.